Youth Justice changes & Together member meeting invitation
We are seeking feedback about the recent changes to Youth Justice legislation and their impact on your work, and also to invite you to a Together Youth Justice members meeting on Teams on Wednesday 5 May.
Workplace impacts of latest Youth Justice legislation
The proposed Youth Justice legislative changes have passed parliament.  Together provided member feedback about this bill in a submission to the parliamentary committee who was considering the Youth Justice and Other Legislation Amendment Bill (2019). Now that the Bill has been through parliament and more is known about the implementation, we are now seeking to present your views on implementation.
The implementation of this legislation will mean either minor or significant changes for many of our Youth Justice members. Each of the roles affected are listed in the table below. The table was provided by the Department and outlines the amendments and impact of those expected changes for each role which is affected.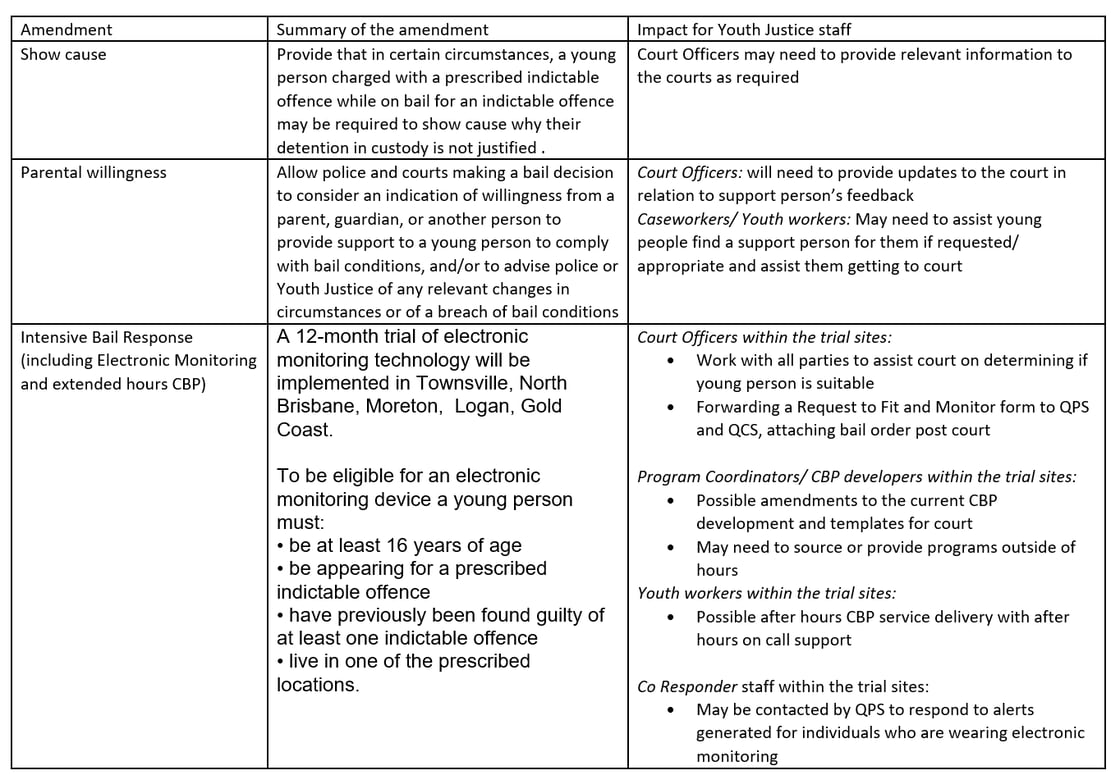 You may have received more specific information from your local managers about the changes or impacts on your teams. You can read more about the amended legislation and fact sheets about the changes here. 
We will be providing initial feedback about the changes on behalf of members. 
To have your say, please email your feedback to youthjustice@together.org.au by close of business Friday 7 May. 
We will continue to welcome any member feedback after this time. Please let us know any concerns you have, or if you would like to discuss the impacts on your teams.
Youth Justice member meeting invitation – Wednesday 5 May, 12:30pm
We would like to extend an invitation to all Youth Justice Together members to attend a member meeting via Teams. The purpose of the meeting is to provide a quick update on current Youth Justice matters and to hear from you about your workplace issues and concerns. Sharing what is happening in your workplaces assists your delegates to advocate for members in regular meetings with the Department and Director-General.
Microsoft Teams meeting details:
12:30pm, Wednesday 5 May - Click here to join the meeting
Or call in (audio only) - +61 2 8318 0085,,561203586# 
Phone Conference ID: 561 203 586#
We look forward to hearing from you and to ensuring that all Together Youth Justice members have a strong union voice in relation to changes which impact the important work you do.